Project B
---
Get the 66 Ford / Ansul going again
Here she is at work at the Center Point Fire District in 1985.
With E-2's 1973 Hahn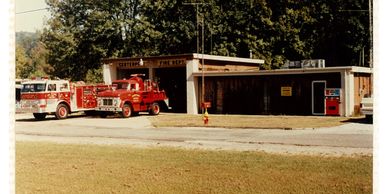 The powder unit has had a bad master cylinder and dead battery for a couple of years and we want to get her on the road again.
All done
Brakes repaired, starter rebuilt, new battery, new fuel filter & fresh fuel, a brake line and a couple of other little things and she runs again!
Home in the warehouse
This past year, 2017, member Bryan Glenn worked several days waxing the body, cleaning out the interior and cleaning the glass. What a difference!
The working end
This truck is really a big BC fire extinguisher. Nitrogen stored in the cylinders under the booster reels pressurized the big tank, forcing the agent out the monitor nozzle or booster lines.